Old Lace Condo
Stylish 3 bedroom just off International Drive
Reservation Quote
Enter dates to check availability.

From
$
80
to
$
176
per
night

Click to see if home is available.
Availability Price

The from to price is a guide to the nightly base price depending on season of travel. The quoted price is worked out on a nightly basis so if a stay spans to seasons the total base price may have different nightly rates.


Availability Price

The from to price is a guide to the nightly base price depending on season of travel. The quoted price is worked out on a nightly basis so if a stay spans to seasons the total base price may have different nightly rates.


Fully inclusive price

The fully inclusive price is the total price for your stay, these price including all applicable taxes, adminstration fees, cleaning and Accidental damage waiver protection (security fee) You will have the option to add extra items like pool heat, vacation cancellation protection at the booking stage.


Overview
Property type

Condo

Floor plan (sq. ft.)

2001

Bedrooms

3

Bathrooms

2

Sleeps

6

Check-in time

4:00 pm

Check-out time

10:00 am
Welcome to Old Lace Condo, a stunning 3-bedroom, 2-bathroom vacation retreat in the prestigious Vista Cay Resort. With 2001 square feet of impeccable design and comfort, this villa sets the stage for an unforgettable stay for up to 6 guests.
Upon entering Old Lace Condo, you'll be greeted by an atmosphere of timeless elegance and contemporary charm. The thoughtfully curated furnishings and decor create a harmonious blend of style and relaxation, ensuring that every moment of your stay is exceptional.
The main bedroom is a haven of luxury, featuring a sumptuous king bed and an en-suite bathroom that exudes sophistication. Pamper yourself with a leisurely bath or rejuvenating shower, surrounded by modern amenities and an ambiance of tranquility.
In the second bedroom, a king-size bed awaits, promising nights of restful slumber and mornings filled with anticipation. The third bedroom is a delightful oasis with two twin beds, perfect for friends or family members seeking their haven.
Step out onto your private balcony and savor the refreshing breeze while enjoying the scenic views that stretch before you. It's the ideal spot for enjoying coffee at sunrise or toasting a day well spent under the stars.
Old Lace Condo's fully equipped kitchen is a chef's dream, boasting stainless steel appliances and elegant granite countertops. Whether preparing a gourmet feast or a quick snack, you'll find everything you need to indulge your culinary desires.
For added convenience, a laundry room with a washer and dryer is at your disposal, ensuring you can keep your wardrobe fresh and ready for any occasion.
Stay seamlessly connected with the complimentary high-speed WiFi available throughout the villa. Make local and long-distance calls within the US without hesitation – it's all included.
Old Lace Condo goes above and beyond to ensure comfort and security, featuring a cutting-edge digital entry and lock system. With your unique private code, you'll enjoy easy access and peace of mind throughout your stay.
Old Lace Condo at Vista Cay Resort is more than just a vacation rental – it embodies refinement, offering a blend of contemporary luxury and modern amenities that redefine your Orlando experience. Embrace the allure of Old Lace Condo and embark on a journey of relaxation, discovery, and cherished memories that will stay with you for a lifetime.
Property Summary
|| Private balcony
|| Contemporary furnishings and decor
|| Full kitchen with stainless appliances and granite counters
|| Laundry with washer and dryer
|| WiFi high-speed internet provided FREE
|| Digital entry/lock system with unique, private code
Vista Cay Resort
Nestled in the heart of natural beauty and urban excitement,
Vista Cay
Resort offers an unparalleled vacation experience that blends comfort, convenience, and luxury. Situated in Orlando, Florida, just a stone's throw away from world-renowned theme parks, vibrant entertainment, and countless attractions, this resort is a haven for travelers seeking a well-rounded and unforgettable getaway.
Vista Cay Resort greets visitors with its modern architecture and meticulously landscaped surroundings, creating a serene oasis amid the city's bustling energy. The resort's well-appointed accommodations cater to various tastes and group sizes, from couples seeking a romantic escape to families yearning for space and convenience. Spacious and elegantly designed condos and townhouses are outfitted with top-notch amenities, ensuring a home-away-from-home experience that exceeds expectations.
Step outside your luxurious abode, and you'll find various recreational options to suit every interest. Take a refreshing dip in the inviting resort-style pool, where lush palm trees sway in the breeze, or unwind in the soothing waters of the hot tub. For those looking to maintain their fitness routine, the well-equipped fitness center offers state-of-the-art equipment to help you stay active during your stay.
Vista Cay
Resort's location is a gateway to endless adventures. With the iconic Universal Studios, Walt Disney World, and SeaWorld Orlando all within a short drive, guests can effortlessly immerse themselves in the magic of these renowned theme parks. Nearby, the bustling International Drive offers many dining, shopping, and entertainment options, ensuring that there's never a dull moment.
Whether you're a thrill-seeker exploring the many attractions of Orlando or a leisure-seeker looking to relax and rejuvenate, Vista Cay Resort stands as a sanctuary of comfort and elegance, promising an enchanting vacation experience that captures the essence of this vibrant and dynamic destination.
Community Summary
|| Gated resort community
|| Lakefront clubhouse
|| Clubhouse spa pool
|| Clubhouse pool
|| Clubhouse fitness center
|| Clubhouse games room
|| Clubhouse theater/movie room
|| Clubhouse IT center
|| Clubhouse Wi-Fi
|| Clubhouse dock
|| Resort sports courts
|| Resort beach area
|| Lakeside walks
|| Children's play area
Guest Amenities
VillaDirect also provides a range of amenities in the property for the start of each guest stay - including coffee, milk, sugar, salt, pepper, soaps, body wash, shampoo, conditioner, sponges, dishwasher tabs, washing detergent pods, liquid soap, extra trash bags, a roll of toilet tissue in each bathroom and more. We are always interested in feedback about what additional amenities could benefit guests who stay in our homes. It is expected that guests will need to replenish some items and supply personal toiletries during their stay, and that items are only provided as a "starter pack" of amenities. So that you know, amenities may be changed without notice due to supply constraints.
VillaDirect
Offers a wide selection of the highest quality vacation homes in Orlando. We are accredited by
Walt Disney World
Resort and can guarantee that your vacation property will be within easy reach of all theme parks and attractions. Book your perfect Florida family vacation getaway today.
|| Inspected and approved by
Walt Disney World
Resort
|| Part of the
Vacation Rental Home Connection
program
|| Professionally managed, inspected, and cleaned by VillaDirect Vacation Homes
|| VillaDirect is rated A-Plus by the
Better Business Bureau
|| Serving and delighting guests since 1997
|| Local Guest Services Team available 24/7, 365 days
|| Authorized Disney and Universal Studios
discount tickets
center
Whether traveling for pleasure or business, your accommodations are ideally located to easily access Orlando's must-see attractions. You can enjoy the nearby theme park destinations such as Magic Kingdom, Epcot, Hollywood Studios, Animal Kingdom, Universal Studios, Islands of Adventure, Sea World, Legoland, Aquatica, Discovery Cove, H20 Water Park, Typhoon Lagoon and Blizzard Beach.
Being in the heart of the number one family travel destination, you will always be able to enjoy world-class entertainment, outlet mall shopping, championship golf courses, excellent museums, and world-renowned dining from places such as City Walk, Disney Springs, International Drive, or the Orange County Convention Center.
Bed Types
Room
Level
Bed types
Sleeps
En-suite?
Bedroom 1
Same Level
King Bed
2
Bedroom 2
Same Level
King Bed
2
Bedroom 3
Same Level
Twin Bed
Twin Bed
1
1
Sleeps 6
1 En-suite
Floor Plan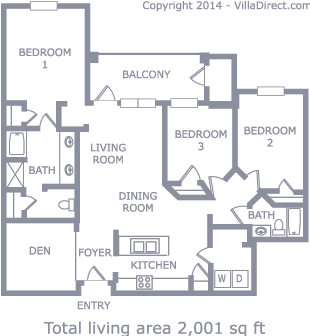 Amenities
Property Amenities
| | | |
| --- | --- | --- |
| | | |
| | | |
| | | |
| | | |
| | | |
| | | |
| | | |
| | | |
| | | |
Community/Resort Amenities
| | | |
| --- | --- | --- |
| | | |
| | | |
| | | |
| | | |
| | | |
| | | |
Availability
November 2023
S
M
T
W
T
F
S
1
2
3
4
5
6
7
8
9
10
11
12
13
14
15
16
17
18
19
20
21
22
23
24
25
26
27
28
29
30
December 2023
S
M
T
W
T
F
S
1
2
3
4
5
6
7
8
9
10
11
12
13
14
15
16
17
18
19
20
21
22
23
24
25
26
27
28
29
30
31
Video
No video at this time.
Map
Policies
Just like staying at a hotel, when you rent a vacation home there are policies and rules that need to be followed. Please read and understand these before booking to make sure that the home is suitable for your family's requirements and that you have no misunderstandings when you arrive.
> VillaDirect has designated this vacation rental a non-smoking home.
> VillaDirect has a NO pet policy, however some homeowners may have service dogs for medical reasons. Please check property description (above) to see if this applies to this home.
> All communities restrict the erection of temporary or permanent structures by guests on the property lot, against the property building, or on private or common areas and have a legal right to demand to have any such structure removed and/or fine a guest for breach of this restriction.
> Trucks, commercial vehicles, campers, mobile homes, recreational vehicles, motor homes, house trailers, trailers of every other description, boats, jet skis (or other similar watercraft) boat and other watercraft trailers, horse trailers or vans shall not be permitted to be parked or to be stored at any place on the property.
> The satellite images provided on Google Maps can be several years out of date and may or may not accurately represent the location in which the property is situated.